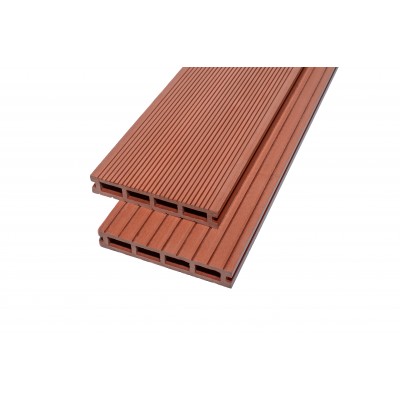 Specification
Width: 6 in. (Actual size - 5.9″);
Thickness: 1 in. (Actual size - 0.98″);
Length: 12 ft.;
Material: WPC;
Color tone: {{ productName }}








TOP DEX wood-polymer composite material is the best new generation solution for outdoor decking.
WPC (Wood Plastic Composite) is an environmentally friendly composite material,
which is made out of wood and polymer during a specific manufacturing process.
The combination of natural fibers and synthetic materials ensures excellent board quality in the long term.
Most valuable qualities of natural wood are preserved, while disadvantages - eliminated.
The high aesthetic value of the boards will complement any architectural style.
Both surfaces of the board can be used, choose which facture you prefer better!
The boards are easy to install, therefore they are also suitable for seasonal terraces.